Introduction

To do yoga, one of the most important things to achieve is to get rid of all attachment to the past.
The Mother – Words of the Mother – III: CWM, Vol. 15, p.71

No attachments, no desires, no impulses, no preferences; perfect equanimity, unchanging peace and absolute faith in the Divine protection: with that you are safe, without it you are in peril. And as long as you are not safe, it is better to do like little chickens that take under the mother's wings.
The Mother – Questions and Answers: CWM, Vol. 3, p.48

All that is based on human relationship is unstable and transient, mixed and unsatisfactory; it is only what is established in the Divine and through the Divine that can last and give satisfaction.
The Mother – Words of the Mother – II: CWM, Vol. 14, p.283

Samata does not mean the absence of ego, but the absence of desire and attachment.
Sri Aurobindo – Letters on Yoga – II: CWSA, Vol. 29, p. 133
Practical Guidance

The idea that you must go more and more within and turn wholly to the Mother is quite right. It is when there is no attachment to outward things for their own sake and all is only for the Mother and the life through the inner psychic being is centred in her that the best condition is created for the spiritual realisation.
Sri Aurobindo – Letters on Yoga – III: CWSA, Vol. 30, p. 196

…. Witness means an observer, someone who looks on and does not act himself. So, when the mind is very quiet, one can withdraw a little in this way from circumstances and look at things as though he were a witness, a spectator, and not participating in the action himself. This gives you a great detachment, a great quietude, and also a very precise sense of the value of things, because it cuts the attachment to action. When you know how to do this with yourself, when you can withdraw and watch yourself acting, you learn many things about yourself. When you are all mixed up and take part in the action, you do not observe yourself acting, you don't know what you are like. But when you draw back and look at yourself, you can perceive many imperfections which you wouldn't have seen otherwise.
The Mother – Questions and Answers: CWM, Vol. 6, p. 360


There is only one way for you. It is a total, complete and unconditional surrender. What I mean by that is the giving up not only of your actions, work, ambitions, but also of all your feelings, in the sense that all that you do, all that you are, is exclusively for the Divine. So, you feel above the surrounding human reactions—not only above them but protected from them by the wall of the Divine's Grace. Once you have no more desires, no more attachments, once you have given up all necessity of receiving a reward from human beings, whoever they are —knowing that the only reward that is worth getting is the one that comes from the Supreme and that never fails—once you give up the attachment to all exterior beings and things, you at once feel in your heart this Presence, this Force, this Grace that is always with you.
The Mother – Words of the Mother – III: CWM, Vol. 15, p.398
Let the waves of the past flow far from you, carrying away with them all attachments and all weaknesses.
The luminous joy of the divine consciousness is waiting ready to take their place.
The Mother – Words of the Mother – III: CWM, Vol. 15, p.72
A friendship free from desire and attachment might be the ideal solution, but to be carried out it requires a perfect mastery over oneself and an unshakable discipline of the vital and the body. And as for the moment it is not yet the case, it is wiser not to tempt the devil and to cut all relations.
The Mother – Words of the Mother – II: CWM, Vol. 14, p.283
You say that you wish to lead the spiritual life, but for that you should understand that the first point is to overcome all the lower movements, all the attractions, all the attachments, for all these are absolutely contrary to the spiritual life.
The spiritual life demands that one is exclusively turned towards the Divine and the Divine alone. All that one does should be done for the Divine; all occupations, all aspirations,
all, without exception, should be directed towards the Divine with a complete surrender of the whole being.
I know that this cannot be done in a day. But the decision that it may be so should be taken in an unshakable manner. It is only on this condition that I can accept you for the spiritual life.
The Mother – Words of the Mother – I: CWM, Vol. 13, p.112
It is from within that you must become master of your lower nature by establishing your consciousness firmly in a domain that is free of all desire and attachment because it is under the influence of the divine Light and Force. It is a long and exacting labour which must be undertaken with an unfailing sincerity and a tireless perseverance.
The Mother – Some Answers from the Mother: CWM, Vol. 16, p. 302 
Take advantage of the circumstances to get rid of all attachment to the members of your family.
You must learn that you have no more brothers, sister, father, mother, except Sri Aurobindo and myself, and you must feel free and unconcerned whatever happens to them. We are your whole family, your protection, your all in all.
The Mother – Words of the Mother – II: CWM, Vol. 14, p.285
One of the commonest forms of ambition is the idea of service to humanity. All attachment to such service or work is a sign of personal ambition….You must be able, if you are ready to follow the divine order, to take up whatever work you are given, even a stupendous work, and leave it the next day with the same quietness with which you took it up and not feel that the responsibility is yours. There should be no attachment—to any object or any mode of life. You must be absolutely free. If you want to have the true yogic attitude, you must be able to accept everything that comes from the Divine and let it go easily and without regret….
You must accept all things—and only those things—that come from the Divine. Because things can come from concealed desires. The desires work in the subconscious and bring things to you which, although you may not recognise them as such, nevertheless do not come from the Divine but from disguised desires.
You can easily know when a thing comes from the Divine. You feel free, you are at ease, you are in peace. But when something presents itself to you and you jump at it and cry out, "Oh, at last I have it", then you can know for certain that it does not come from the Divine. Equanimity is the essential condition of union and communion with the Divine.
The Mother – Questions and Answers: CWM, Vol. 3, pp. 9 – 10
Repulsion is always a bad thing and just the other side of attachment.
The Mother – More Answers from the Mother: CWM, Vol. 17, p. 22
….when something is painful to you or very unpleasant, if you begin to think of the eternity of time and the immensity of space, if you think of all that has gone before and all that will come afterwards, and that this second in eternity is truly just a passing breath, and that it seems so utterly ridiculous to be upset by something which in the eternity of time is… one doesn't even have the time to become aware of it, it has no place, no importance, because, what indeed is a second in eternity? If one can manage to realise that, to… how to put it?… visualise, picture the little person one is, in the little earth where one is, and the tiny second of consciousness which for the moment is hurting you or is unpleasant for you, just this —which in itself is only a second in your existence, and that you yourself have been many things before and will be many more things afterwards, that what affects you now you will have probably completely forgotten in ten years, or if you remember it you will say, "How did I happen to attach any importance to that?"… if you can realise that first and then realise your little person which is a second in eternity, not even a second, you know, imperceptible, a fragment of a second in eternity, that the whole world has unfolded before this and will unfold yet, indefinitely—before, behind—and that… well, then suddenly you sense the utter ridiculousness of the importance you attach to what happened to you…. Truly you feel… to what an extent it is absurd to attach any importance to one's life, to oneself, and to what happens to you. And in the space of three minutes, if you do this properly, all unpleasantness is swept away. Even a very deep pain can be swept away. Simply a concentration like this, and to place oneself in infinity and eternity. Everything goes away. One comes out of it cleansed. One can get rid of all attachments and even, I say, of the deepest sorrows—of everything, in this way —if one knows how to do it in the right way. It immediately takes you out of your little ego. There we are.
The Mother – Questions and Answers: CWM, Vol. 6, pp. 345 – 46
To be free from all attachment does not mean running away from all occasion for attachment. All these people who assert their asceticism, not only run away but warn others not to try!
This seems so obvious to me. When you need to run away from a thing in order not to experience it, it means that you are not above it, you are still on the same level.
Anything that suppresses, diminishes or lessens cannot bring freedom. Freedom has to be experienced in the whole of life and in all sensations.
The Mother – On Thoughts and Aphorisms: CWM, Vol. 10, p.194
…. So, if one wants to be safe on the path, it seems to me that to seek for peace, for perfect calm, perfect equality, for a widening of the consciousness, a vaster understanding and liberation from all desire, all preference, all attachment, is certainly an indispensable preliminary condition.
It is the guarantee of both inner and outer equipoise.
And then on this equilibrium, on this foundation which must be very solid, one may build whatever one wants. But to begin with, the foundation must be there, unshakable.
The Mother – Questions and Answers: CWM, Vol. 8, p. 328
….Attachment is attachment in whatever part of the being it may be. In order to be unattached one must be unattached everywhere, in the mental, vital, physical action and not only in the silent soul somewhere inside.
Sri Aurobindo – Letters On Yoga – I: CWSA, Vol. 28, p.45
Attachment to the Divine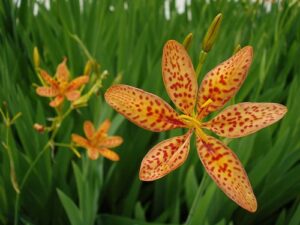 Belamcanda chinensis
Blackberry lily, Leopard lily
Small deep orange flower with six narrow widely separated petals covered with bright red spots; borne in loose corymbs on long narrow stems. A rhizomatous perennial herb with broad swordlike leaves.
The Mother – Spiritual significance of flowers
Related Topics